So you have booked in your favourite wedding celebrant as well as your dream venue at night for your wedding in 2020, and now it's time for you to think about your wedding location photo session. Being the most liveable city, Melbourne is filled with beautiful gardens, stunning coastlines as well as city skylines. Choosing the perfect wedding photo location can be quite challenging as there are just too many options for brides. In this article, I will reveal 5 of the best wedding photo locations that are perfect for candid wedding photography.
---
Brighton Beach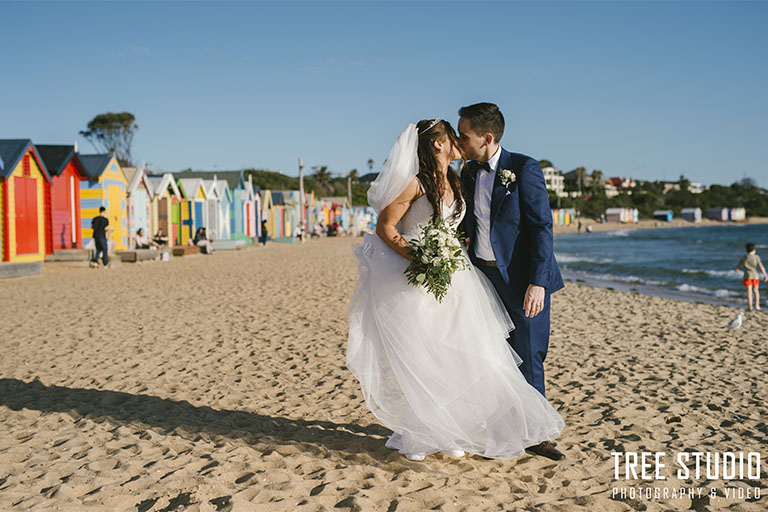 If you have been wanting to feature ocean and beaches in your wedding photos, then the Brighton Beach is one of the beach photo locations you shouldn't miss for candid wedding photography.
Melbourne has a long coastline going from St Kilda all the way to Sorrento and Brighton is one of the most popular photo locations for wedding photography. Not only it's got the standard features such as ocean and the beach, you will also find the famous Brighton Bath Boxes as well as several jetties which are perfect for candid wedding photography.
For candid wedding photography, you can start by taking a relaxing walk along the beach until you find something you fancy, such as the colour bath boxes. They will provide a colourful backdrop for your wedding photography.
As a wedding photographer, if my couples happen to celebrate at one of the wedding receptions near the Brighton Beach, such as the Brighton Savoy or the True South, I love to bring the couple out for sunset shots on beach. The golden lighting boasts a dreamy and romantic feel which is perfect for candid wedding photos.
---
Carlton Garden
Carlton Garden is one of the most sought-after photo locations for candid wedding photography. And the reason is obvious, set 5 minutes away from the Melbourne CBD, the Carlton Garden offers not only convenience as well as a beautiful backdrop of both the historic building and the greenery.
For wedding location photos at the Carlton Garden, I love to bring my couple and their bridal party on the main avenue between tree lines for some candid walking shots first. Moving towards the building, there is also a huge fountain providing great background for candid wedding photography. And finally, we will move along to the Royal Exhibition Building for some more wedding photography with the backdrop of the stairs and historic architectures.
---
Fitzroy Garden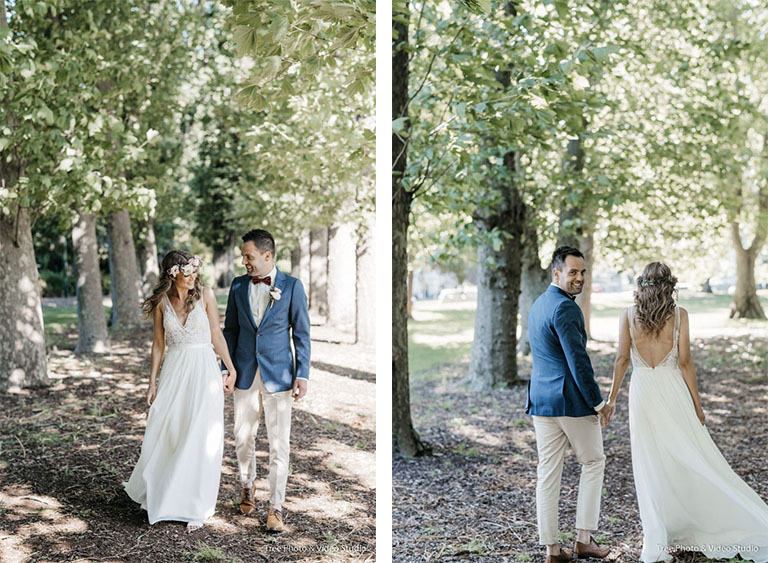 If you are celebrating your wedding at one of the receptions in Melbourne CBD such as the Mon Bijou, and looking to do some candid wedding photography at a garden location, then the Fitzroy Garden will be the first to pop out in my mind.
Located next to the Old Treasury Building, the Fitzroy Garden is one of the wedding photo locations that offers majestic trees, lush green lawns as well as a fountain.
When you are doing wedding photography inside this Melbourne garden photo location, your wedding photos will be naturally gifted with a candid and relaxing vibe. With the lights shining through the leaves while you taking a stroll with your wedding photographer, your photos are almost guaranteed to look natural and elegant.
---
Kamesburgh Gardens Brighton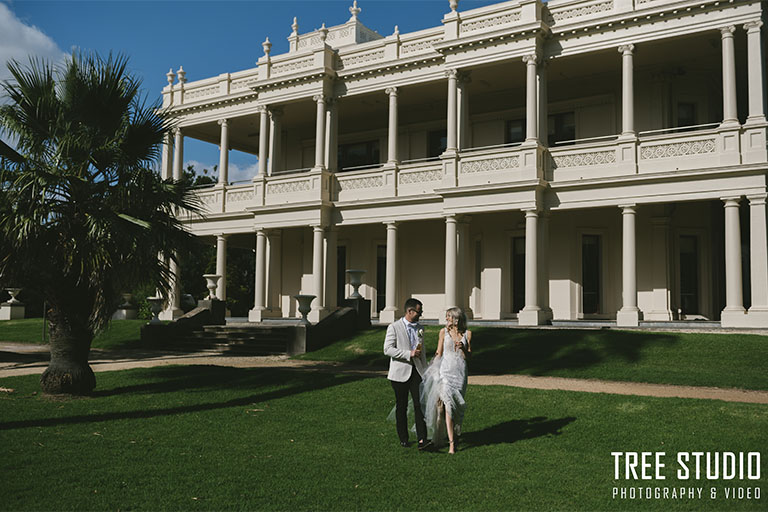 Kamesburgh is one of the photo locations loved by many candid wedding photographers including me. Located in Brighton, this photo location features a lovely curated garden as well as a historic mansion. What I truly love about the Kamesburgh Gardens is it really offer that 'Roman holiday' vibe into your wedding photos. The beautiful background of the mansion, the palm trees as well as the relaxing vibe, will sure make your wedding photography 'wow' others.
The path in front of the historic mansion is pretty much a must do photo spot inside this garden. Walking along the path with your bridal party, you will be able to get some of the most candid wedding photography with the mansion, palm trees and fountain in the background.
With a permit from the local city council, the Kamesburgh Gardens can also be used as a location for wedding ceremony, making it even more popular since you no longer need to travel for location photos anymore.
---
Victoria Barracks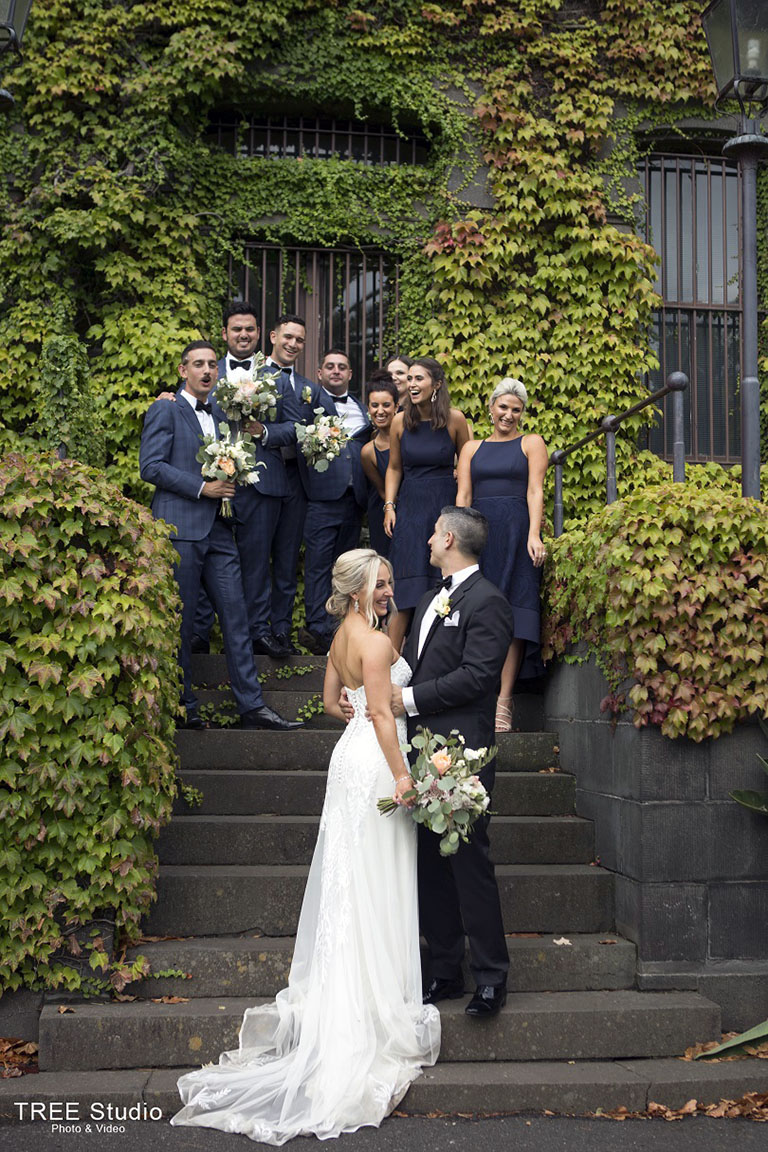 Located on St Kilda Road in Southbank, the Victoria Barracks is the premium wedding photo location for candid photography. Featuring perfectly curated green lawns as well as a green covered stonewall, the Victoria Barracks offers sublime backdrop for your wedding photography.
For candid wedding photography at the Victoria Barracks, I would love to start by bringing the couple and their bridal party to have a stroll on the green lawn. With natural interactions and funny jokes, I will then be able to capture beautiful natural and unposed photos with stunning background.
The only drawback of planning your wedding location photos at the Victoria Barracks is you would need a permit. However, given its convenience and prime location, as well as excellent backdrop, doing your wedding photography there is definitely an unregretful experience.
---
So there you have it, 5 of the best wedding photo locations for candid wedding photography. On the other hand, to achieve candid and natural wedding photos, not only you should choose a stunning location for photos, you should always talk to your wedding photographer on your preferred photography approach. If you want to know more about candid wedding photography or more photo locations, contact us here.