|Tips From A Wedding Photographer For Melbourne Brides-To-Be|
"What is the best photo location for us on our wedding day?" As a wedding photographer that has been shooting weddings for 7 years in Melbourne, this is one of the most asked questions by the couples. And to be frankly, location photos are getting more popularities comparing to the documentary styles photo taken during your ceremony and reception: not only location photos provide you the last opportunity on your wedding day to be just you and your loved one, also it gives me the best background and resources to produce the photos that reflect your true emotions and personalities.
Choosing the right photo location that matches your wedding is one of the helpful tips but choosing the one you like is the most important.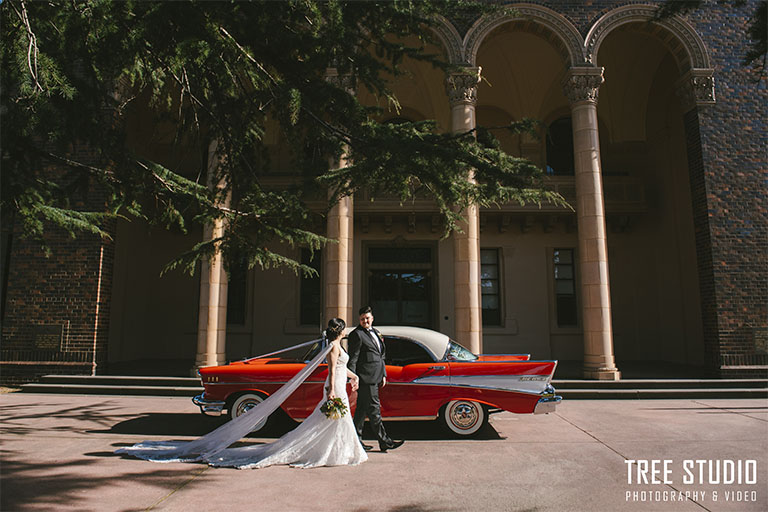 Melbourne is the city known for its greens, the historical buildings from Victoria Era, the stunning coastal line and the cultural diversity. The greatest thing with getting wedding location photos around Melbourne is you have various options to choose from. In this article, we will reveal the best 21 wedding photo locations in Melbourne, handpicked by us.
If you are looking for a wedding photographer and feel a connection with me, with Tree Studio, please click HERE to view the prices. I won't waste your time.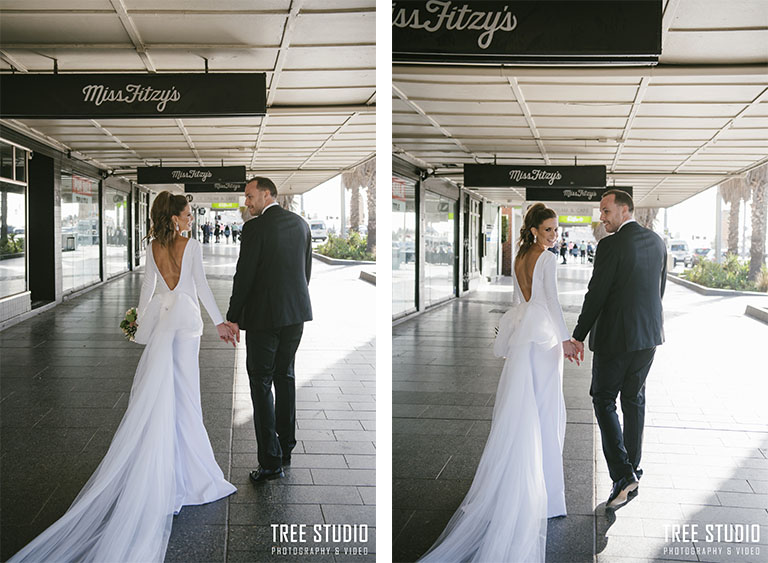 Now, let's get to the point. The best wedding photo locations in Melbourne, in a professional wedding photographer's point of view.
Below is a podcast with Tree Studio's wedding photographer Mark talking about the wedding photo locations in Melbourne. Have a listen and grab an idea to get started.

Before picking your wedding photo location:
My No.1 tip for couples on deciding their wedding photo locations is to always consider if the location fits in thee wedding day schedule. Couples tend to overlook the importance of time schedule as well as fatigue when considering their photo locations. I will always ask the couple to consider the real wedding day schedule. Depends on your culture, your budget, your wedding ceremony and reception venues, the typical time for wedding photo locations, between the wedding ceremony and reception, is 1 to 4 hours. No matter how much time we have for wedding location photography, avoid spending hours travelling is a smart choice. My Suggestion is to choose your wedding photo locations within 30-min driving from your wedding ceremony or reception venues, and try not to do photos at too many different locations as it can be very tiring on the day.

Historical And Contemporary Architectures
Parliament House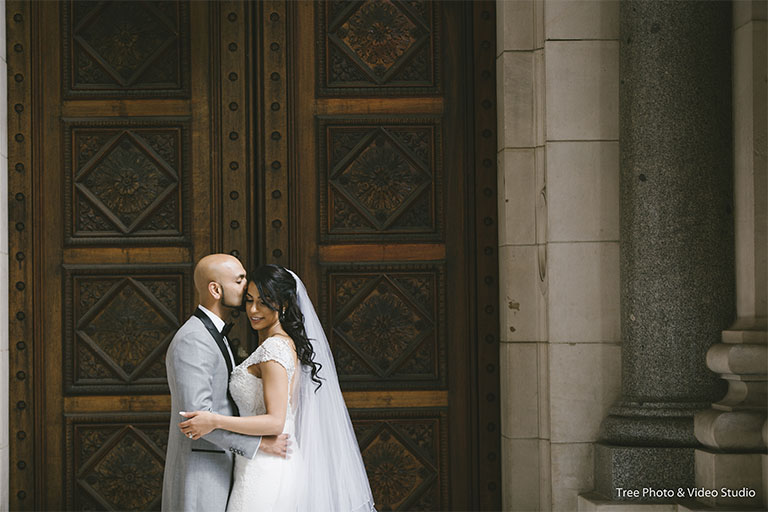 Set on Spring Street, East Melbourne. Parliament House sits just five minutes from the CBD and it is one of the most popular and iconic wedding photo locations in Melbourne. Constructed in 1855, Parliament House is the place to offer a grand, classic and historic backdrop for your wedding photos. It can perfectly match your lavish and elegant wedding theme.
The advantage of the Parliament House is obvious, the geographic location makes it perfect, allowing a short travelling time to some of the major receptions in Melbourne such as Luminare. Also, as it's got shelter to do photos within, it often appears on the list as the backup plan for rainy days.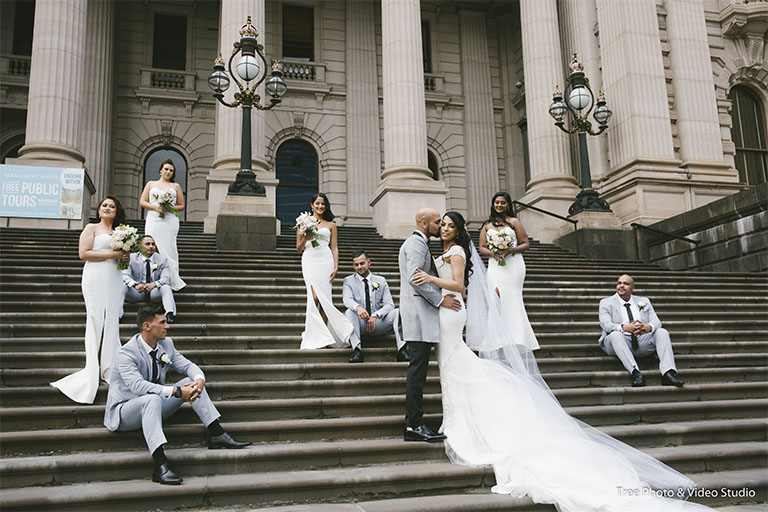 However, Parliament House does have some drawbacks for taking wedding photography here. As a popular and open to the public place, no matter on weekdays or weekends, it normally has quite a few people here and delivers a hustle and bustle kind of feelings. During the busy season, you may have to wait for other couples who arrive earlier and your photographer persuading the tourist to walk away from their camera.
South Melbourne Town Hall
Located on Bank street in South Melbourne, South Melbourne Town Hall is regarded as the "baby Parliament House" as they have share lots of similar elements together. At the South Melbourne Town Hall, it offers similar stairs, pillars and doors of the Parliament House but with less foot traffic. Its geographic location offers the couple a quiet and relaxing atmosphere to do wedding photography. You could also organize the wedding day cars parking in front of the buildings. Now your photographer could capture you, the cars and the backdrop historical building in one image. Plus, there are some iconic Melbourne wedding receptions set nearby – Crown, Luminare, The Park, Carousel, Show Time Event Center, Cargo Hall and Aerial. You normally won't need more than 10 mins to drive there.
Although South Melbourne Town Hall normally doesn't have heaps tourists, it is a place incredibly favored by Melbourne wedding photographers. I have seen 4 couples in front of the Town Hall and have their own wedding photographer capturing them.
RMIT University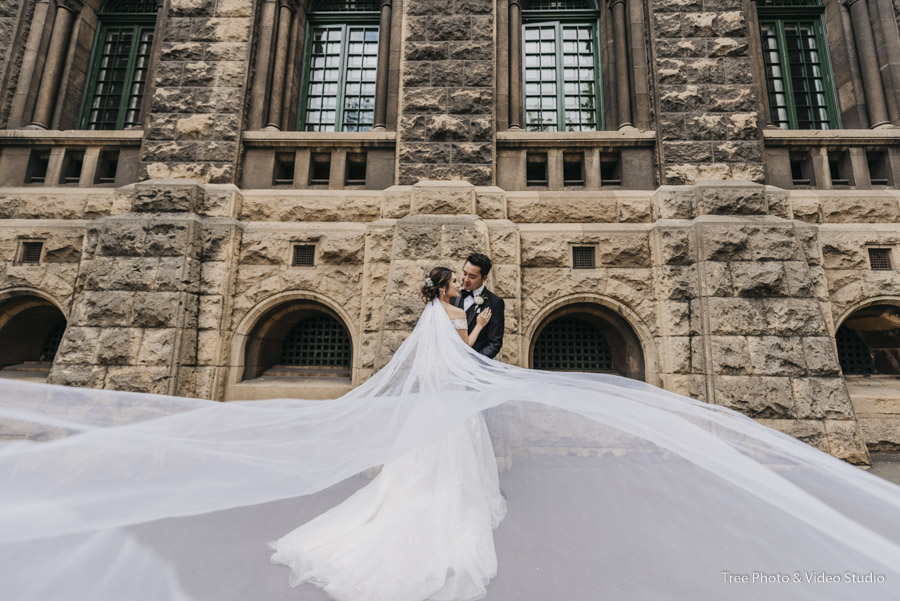 Set in the Melbourne CBD between Swanston and Russell Street, RMIT University offers a few heritages listed buildings and contemporary architectures where could be your perfect wedding photo locations.
One of the most iconic photo locations is the Building 20 at the corner of Russell St and La Trobe St. Used to be the Magistrates' Court, this historic building's Romanesque style blend the ancient British feel in your wedding photos.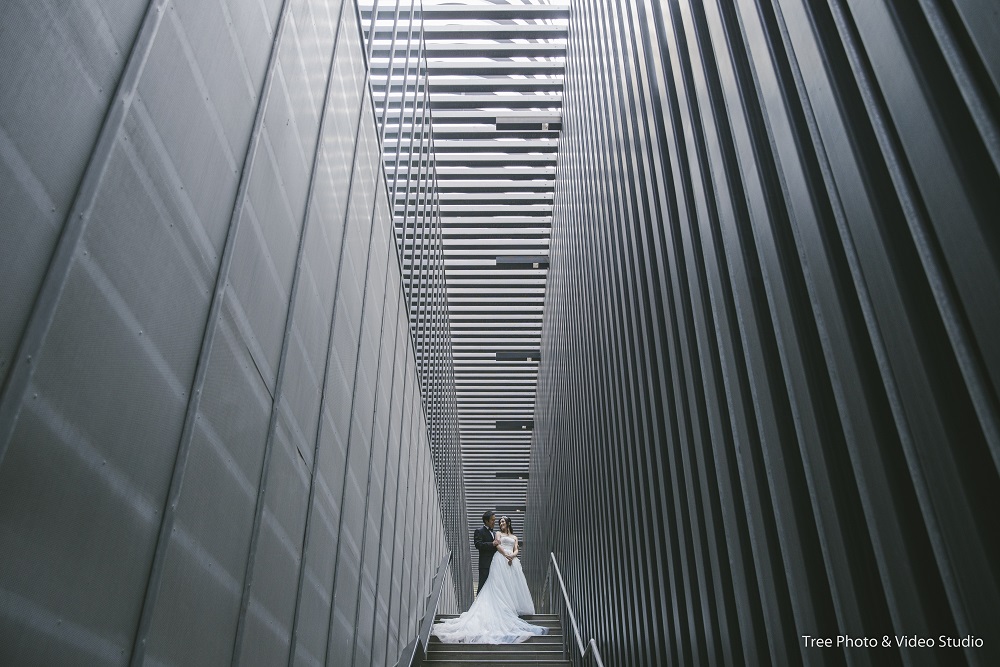 If you are more in to those modern looking photo styles, the Design Archives Building on Victoria Street is superb choice. The round mirror rendered wall and the pathway with full height glass on sides will bring the modern and artistic feeling to the wedding photography.
As a public university, RMIT is normally filled with students during the weekdays. So heading there for a weekend wedding is more feasible than week days. If you plan to have a week day wedding, it is probably not the most ideal place to take wedding photos.
Victoria Barracks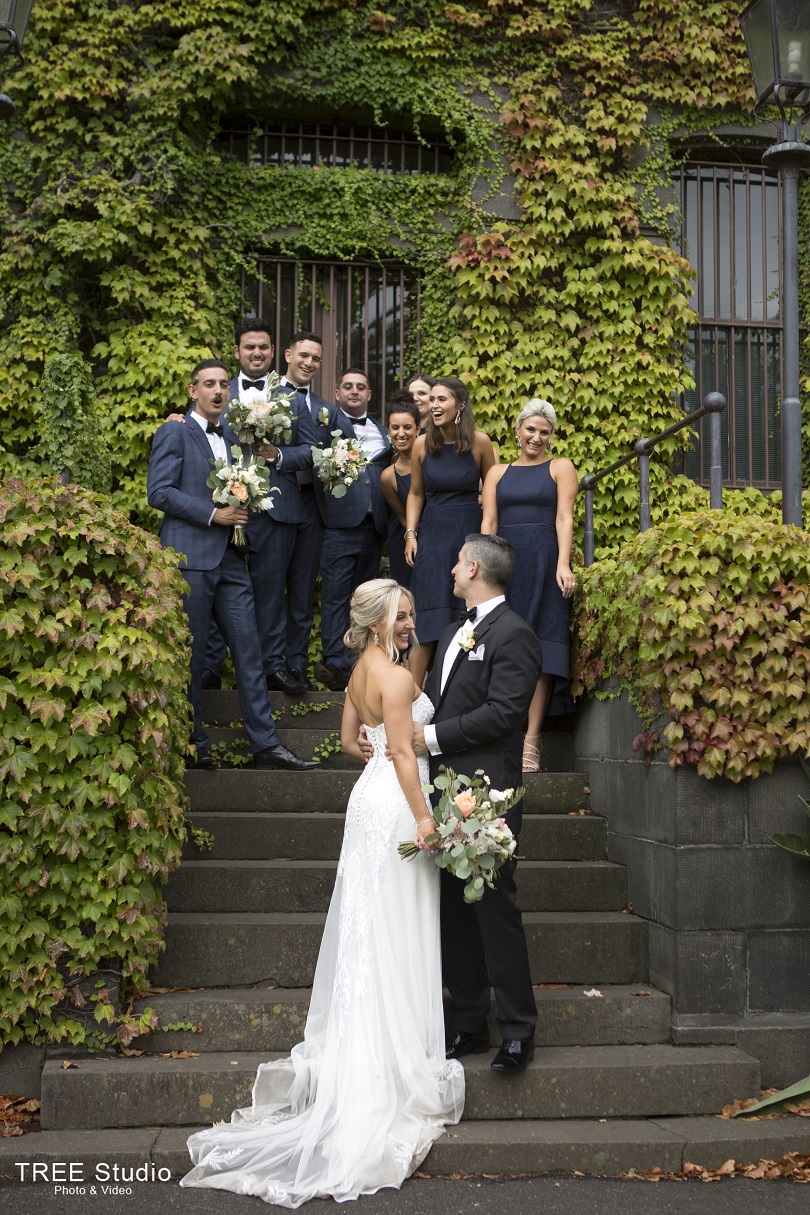 Victoria Barracks is one of the most impressive 19th Century building in terms of historical meaning and architectural designs. Located on St Kilda road in Southbank, it is conveniently located close to many receptions in the city and as well as the Bayside. Another reason that the Victoria Barrack has gained so many popularities is that it provides a green covered stone walls as the beautiful backdrop for your photos, and what's more amazing is that the ivy changes its color according to different seasons.
The only drawback with this photo location is you do need to apply for the permit to take wedding photos at Victoria Barracks via Department of Defence.
Fitzroy Town Hall
Built in the Golden Rush Era, Fitzroy Town Hall offers a classical Victorian design facade as the backdrop for your wedding photo location. From my experience, on most weekends, the traffic and parking are fairly easy around Fitzroy Town Hall. You could also grab a chance to park your vintage wedding car here for the photos.
The drawback if I have to pick one is Fitzroy Town Hall is not a perfect place for its lighting conditions. When you choose go there a bit earlier, like around 2pm, the harsh lighting is very challenged for your wedding photographer. When you go there a bit late, the building itself will block the creamy glare.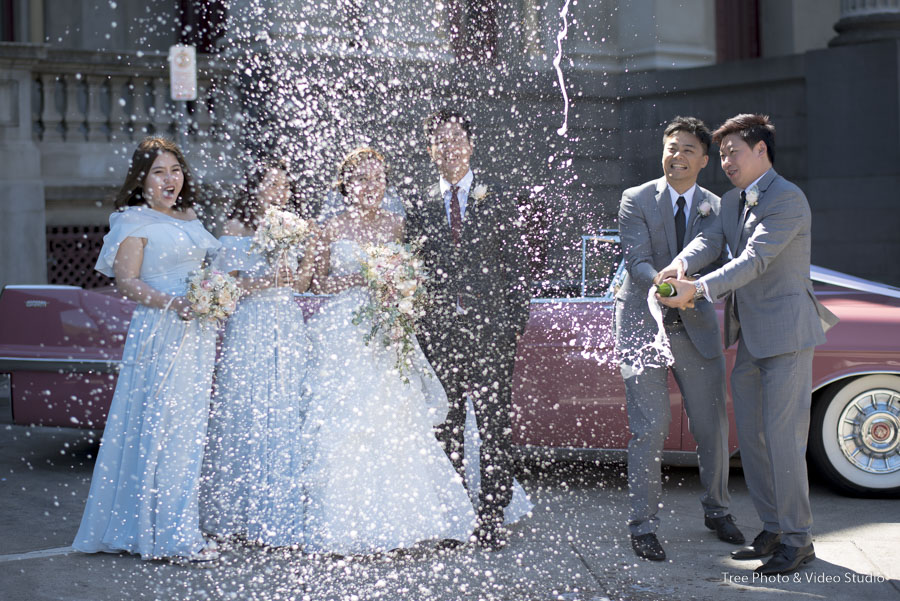 So this is not a place when you look for perfect sunsets photos.
Natural Gardens
Royal Exhibition Building and Carlton Gardens
Built from 1879, Royal Exhibition Building and Surrounds Carlton Gardens is a go-to wedding photo location in Melbourne.
Located on the North-Eastern edge of Melbourne CBD, it is one of the iconic places display Melbourne in front of the world. The 26 hectares of manicured gardens, historical building and contemporary architecture make this place suitable for most wedding themes.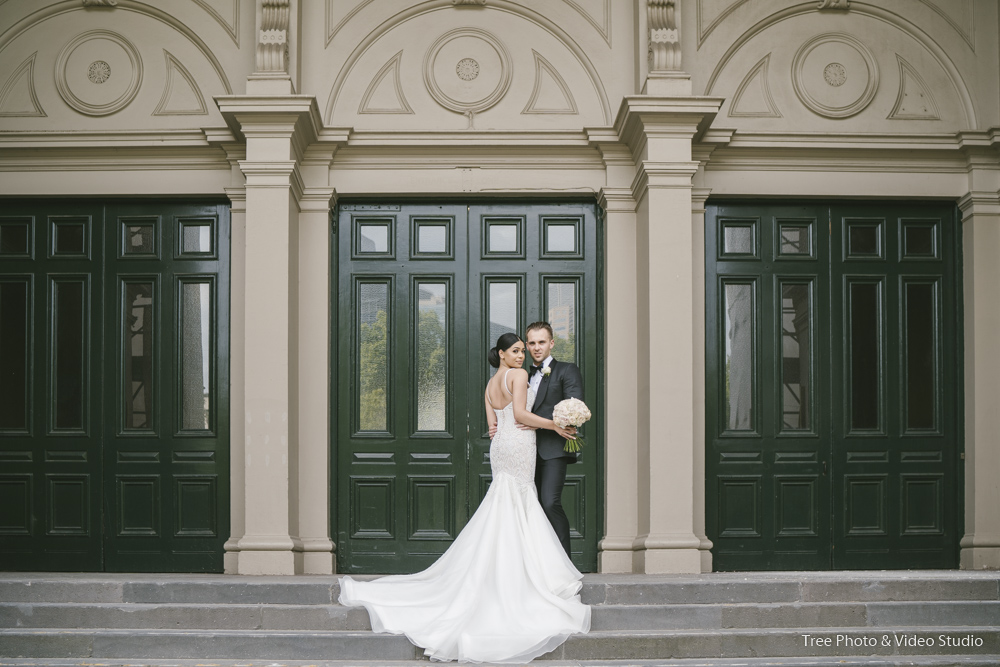 The spawning lawns, the tree-lined pathway and the charming fountain in front of the Royal Exhibition Building provide the stunning backdrop for your wedding photos. There are some well-known wedding receptions set on the inner northern suburb, such as the San Remo Ballroom and Regal Ballroom, where has an easier link to Carlton Gardens.
Albert Park Lake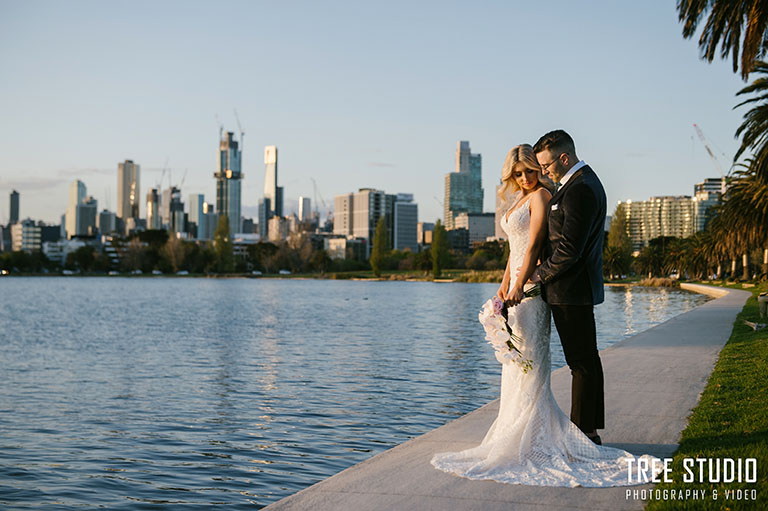 Located between South Melbourne and St Kilda, the Albert Park garden is a superb space for city wedding. The 500 acres of parkland together with the Albert Park lake provides an excellent backdrop for wedding photography.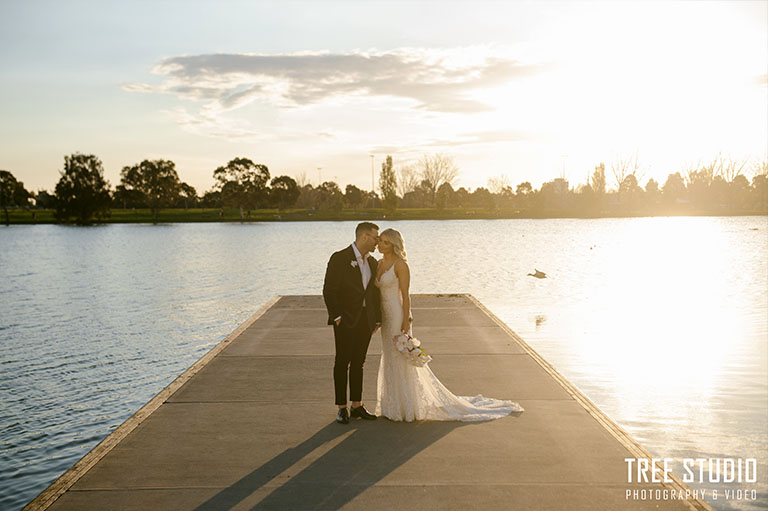 This is the place where perfectly mixed with the natural and modern feel. The swans, the tropical trees, the boat on the lake, the buildings from near to far and city skylines, these above could all be the perfect view for your 'wedding photography.
There are also some iconic waterfront wedding receptions surrounding the lake. Your wedding day can definitely run seamlessly when you choose your wedding reception and wedding portrait all here in Albert Park Lake.
Fitzroy Garden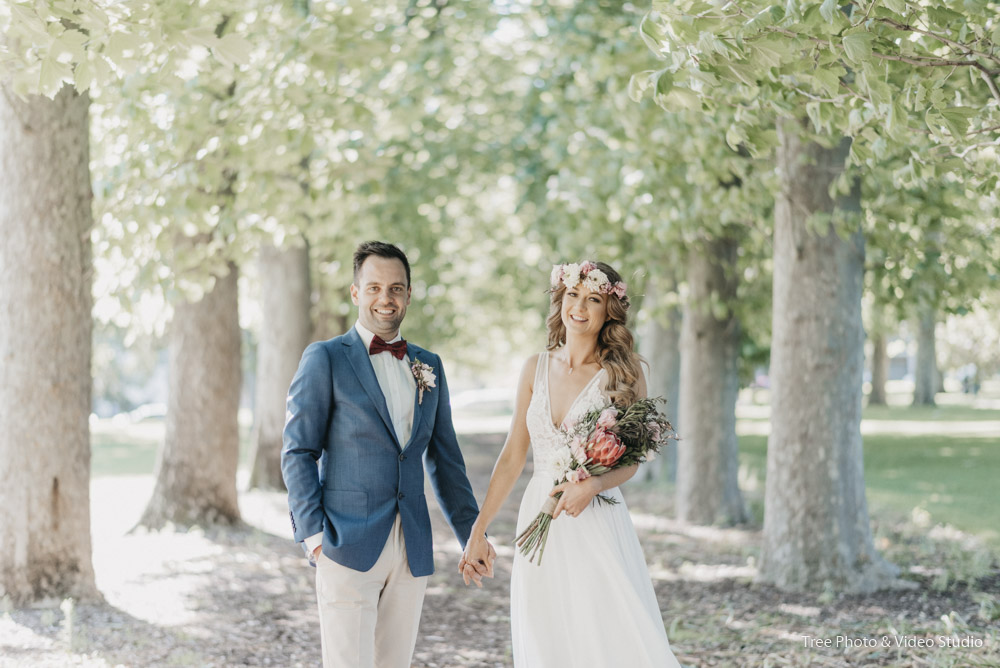 Sitting on Landsdowne st, the Fitzroy Garden is a hidden Gem for Melbourne wedding photography. Beside the fact that this place is so stunning, reason that it has become a much-loved wedding photo location is because it is conveniently located closed to lots of Melbourne CBD wedding receptions such as the Park, Luminare and etc. The iconic majestic tree-lined pathway, the Conservatory, the River God Fountain and the Wind Temple are just a few options in Fitzroy Garden.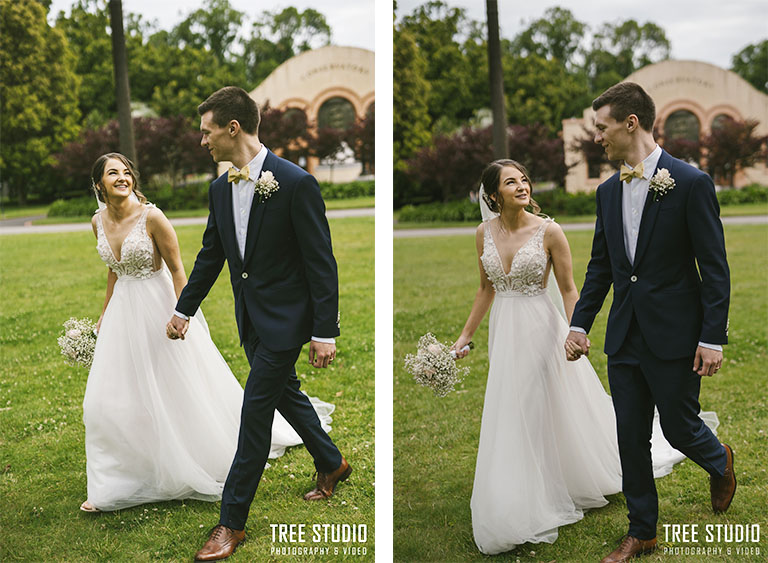 As a popular tourist visit garden, you should expect some extra time for your wedding photographer to take some photos with a clean background. Photoshop these peoples off in the post editing will cost significant amount of time.
St Kilda Botanical Garden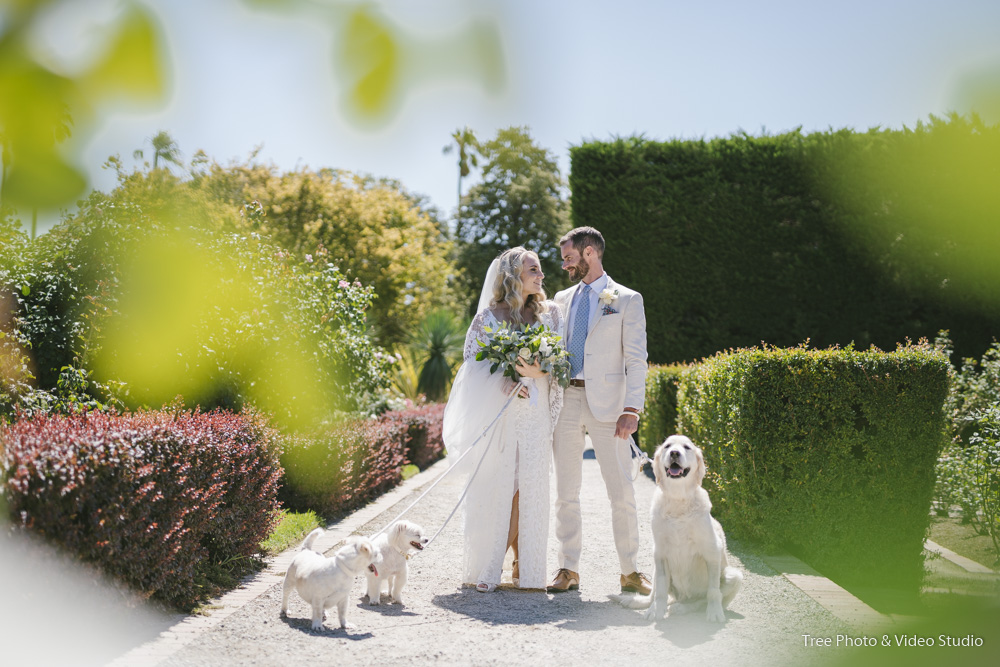 If you love the greenery for your wedding photo, the St Kilda botanical garden definitely should be on your list of wedding day photo locations. Located in the inner South side of Melbourne, next to the bayside, it is an extraordinary place to capture your wedding location photos, especially when you prefer to get away from Melbourne CBD weekends traffic. The Rose Garden, the Rainman Fountain and its pond, the conservatory and the palm line path are just a few spots inside the St Kilda Botanical Garden for your to take wedding location photos.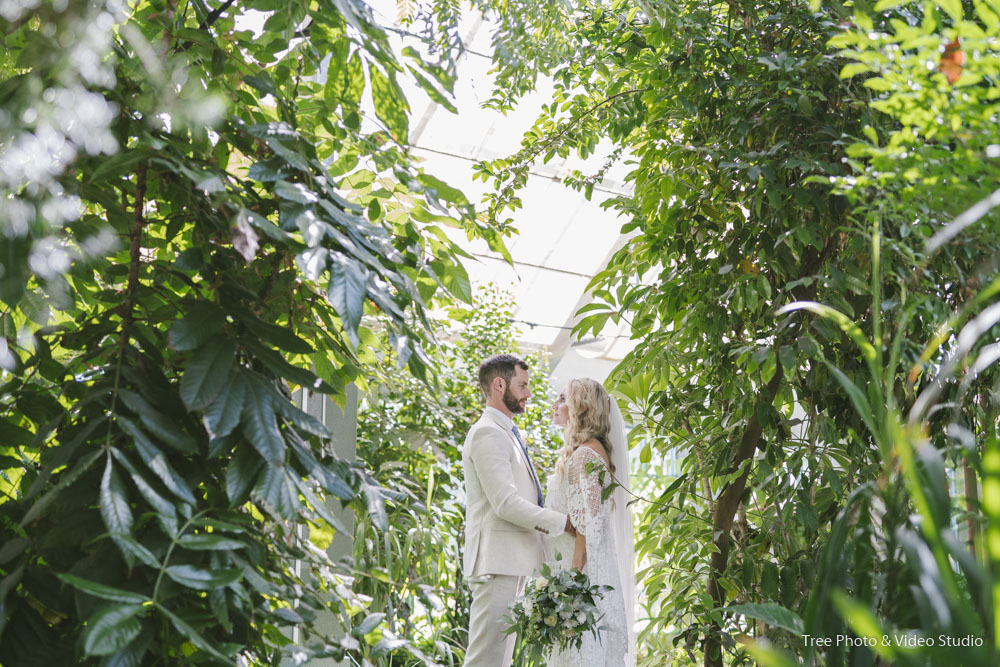 For a wedding photography license only in the St Kilda Botanical Garden, you have to pay $100 for the permit. This is probably the only con I could find for St Kilda Botanical Garden as a wedding photo location after the ceremony.
Williamstown Botanical Garden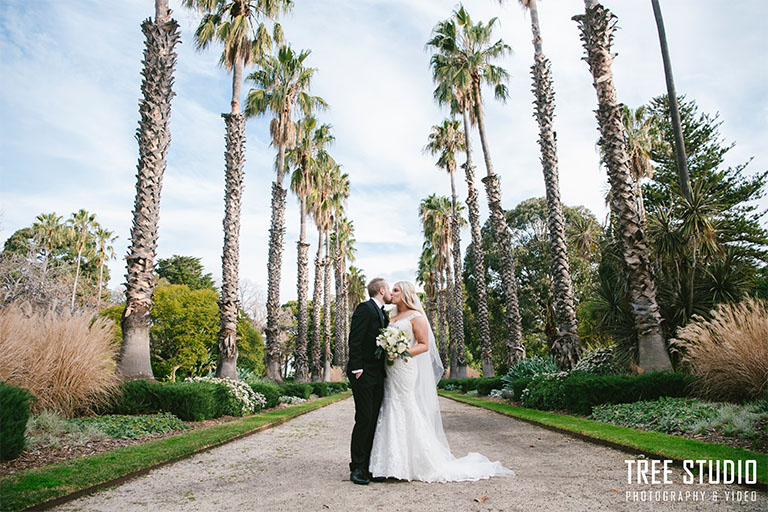 Nestled by the sea, filled with rare and significant trees, a superb palm avenue and a charming ornamental pond, the Williamstown Botanical Garden is one of the favorite wedding photo locations in west Melbourne. If you are planning your wedding at reception such as Luxor, Manor on High, then this Botanical Garden will be outstanding choice to add some greenery into your wedding photos. Another advantage of the Williamstown Botanical Garden is that it is not as busy as the Carlton Garden in the CBD, also as it locates close enough to the sea, you can travel from here to the Williamstown beach in less than 10 minutes.
St Vincent Garden, Albert Park
Located in the center of the Albert park, the St Vincent Garden offers couples who are looking for a less crowded garden-styled photo location. As a beautiful inner-city park, this location is also a good back-up plan from windy beach location. The parkland as well as the lush green foliage provides a superb photo backdrop.
The place to Make Melbourne "Cultural Capital"
Hosier Lane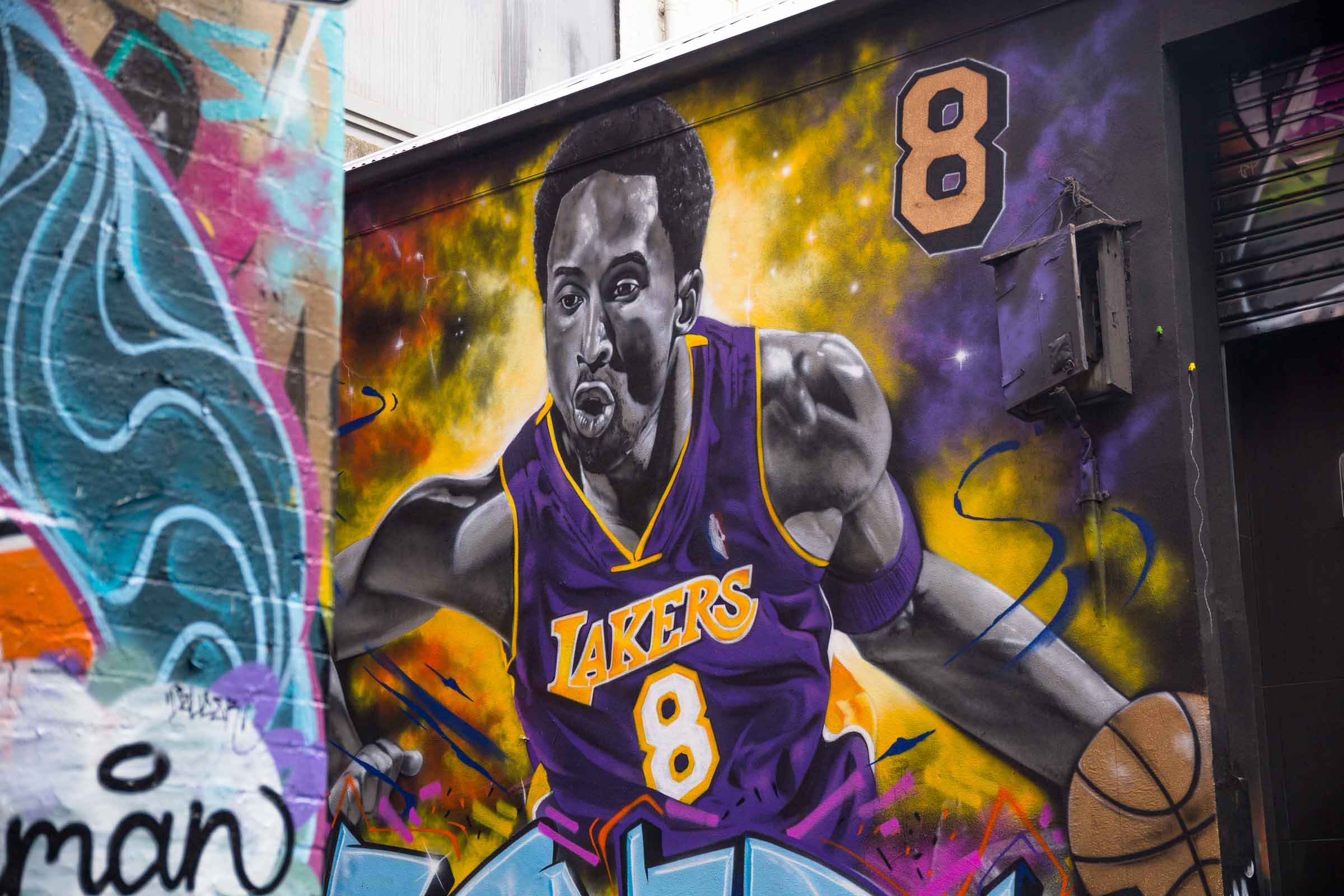 If you are feeling hippy, and wanting a vibrant cultural background as your wedding photo background, then why not go the Hosier Lane. Known as the head base for Melbourne's street art, Hosier lane is filled with vibrant graffiti and cultural things. If you are planning a classic and traditional wedding, this is probably not the right place for you. However, if you plan to connect your wedding with Melbourne street art and contemporary feel, Hosier Lane is one of the best places that Melbourne could offer. As Hosier Lane is set in the heart of Melbourne CBD, the traffic and parking is always a non-easy job.
Australian Center for Contemporary Art (ACCA)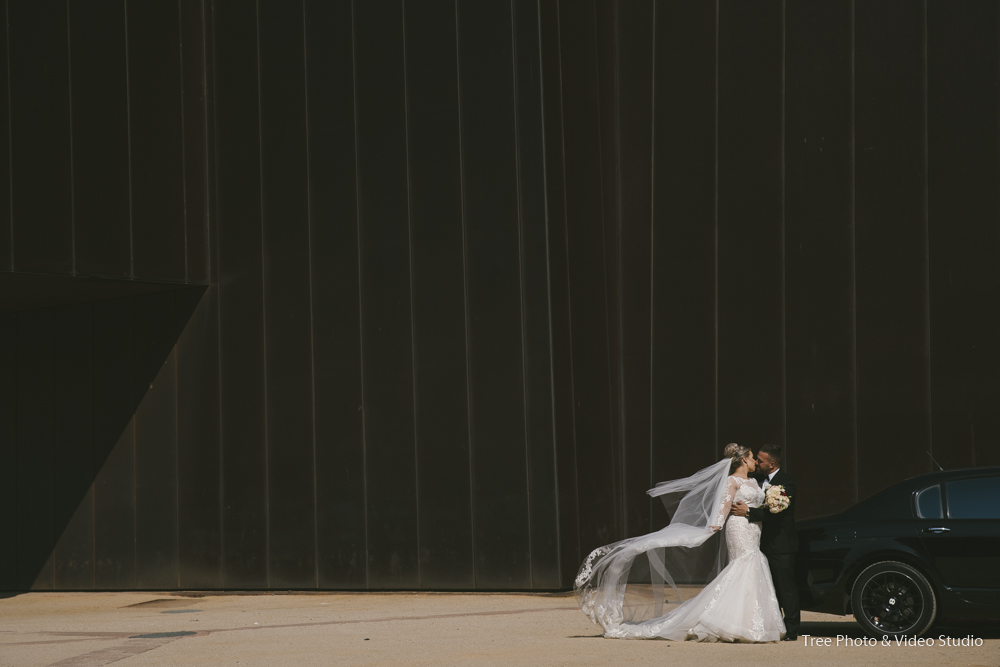 If you want to showcase your car squad on your wedding day, then ACCA located in South Melbourne is definitely a place you should not miss. Whether you want have the extra-long limo, multiple sports and vintage cars, or a group of Harley Motorbikes, ACCA is the place for you.
With a contemporary architecture backdrop, incredibly spacious parking room, Melbourne's heart location and a normally quiet environment, I will say it is my No.1 place if you ask to have some dramatic wedding photos with you and your cars.
National Gallery of Victoria (NGV)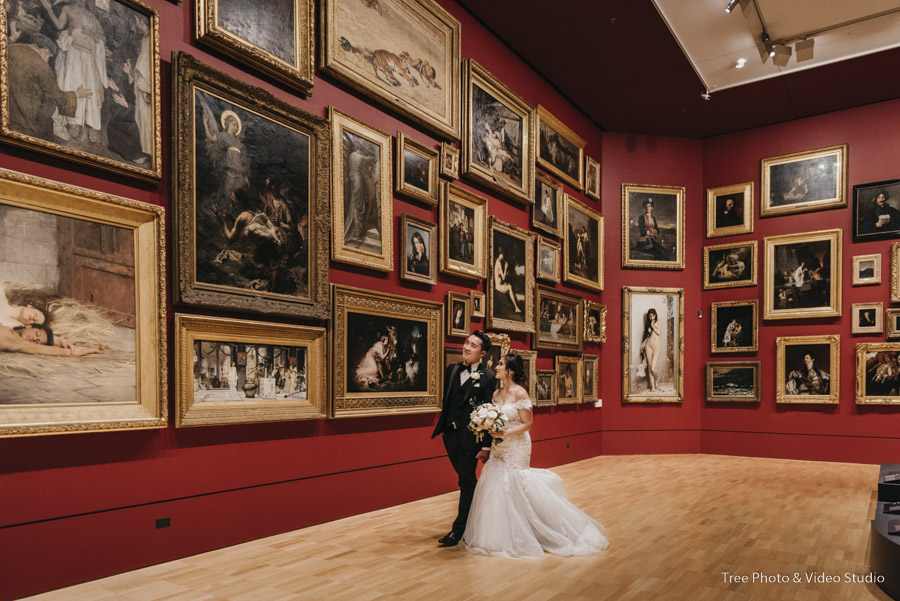 Who said NGV is built exclusively only for galleries and shows? In fact, now you can plan your wedding at the NGV and do your wedding day photos inside.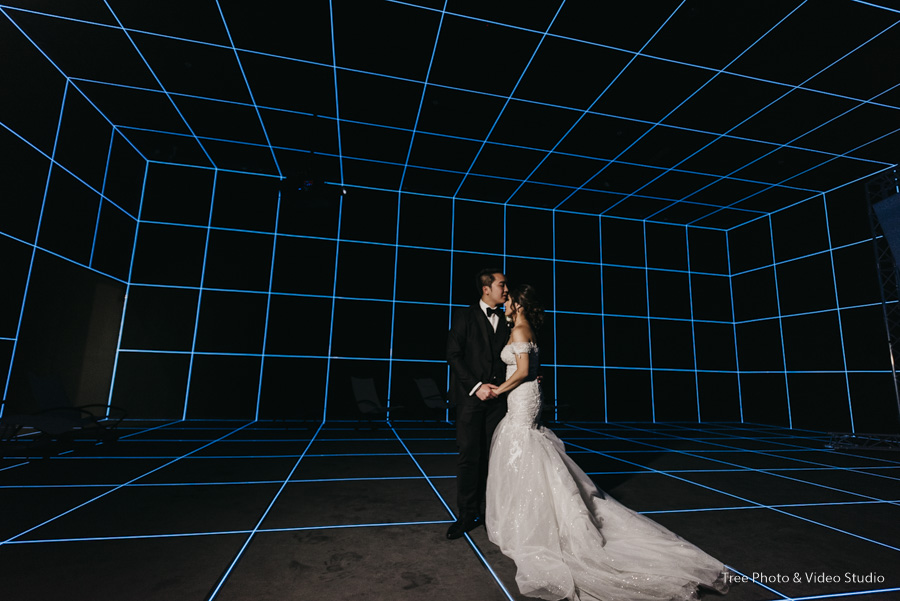 The stained glass ceiling with the cathedral height, the edgy contemporary art display room and its convenient South Bank location are all the bonus point for NGV to be a wedding photo location.
Luna Park Melbourne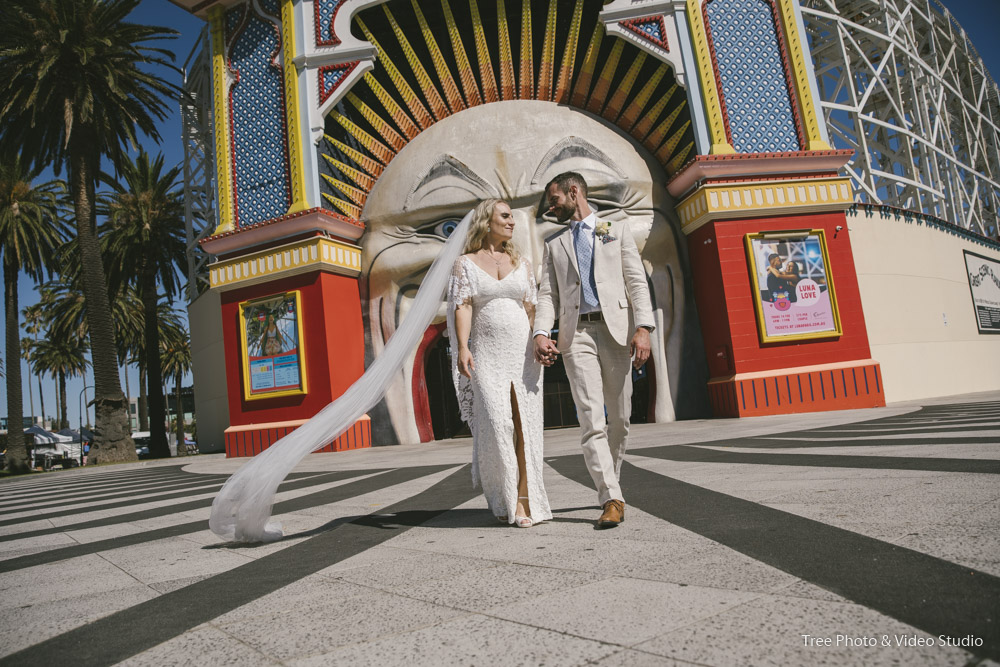 Luna park provides the coupe with a unique fun background for their wedding photos.
It is a wedding photo location like no others. When you choose to have your wedding photography at Luna Park, it can provide an atmosphere filled with fun. Some unique wedding receptions, such as Encore, The George Ballroom, Harbour room, sit within 10 mins driving from Luna Park. When you planning the wedding celebration in St Kilda and want to have something fun for your wedding, Luna Park is the right place.
Spice Market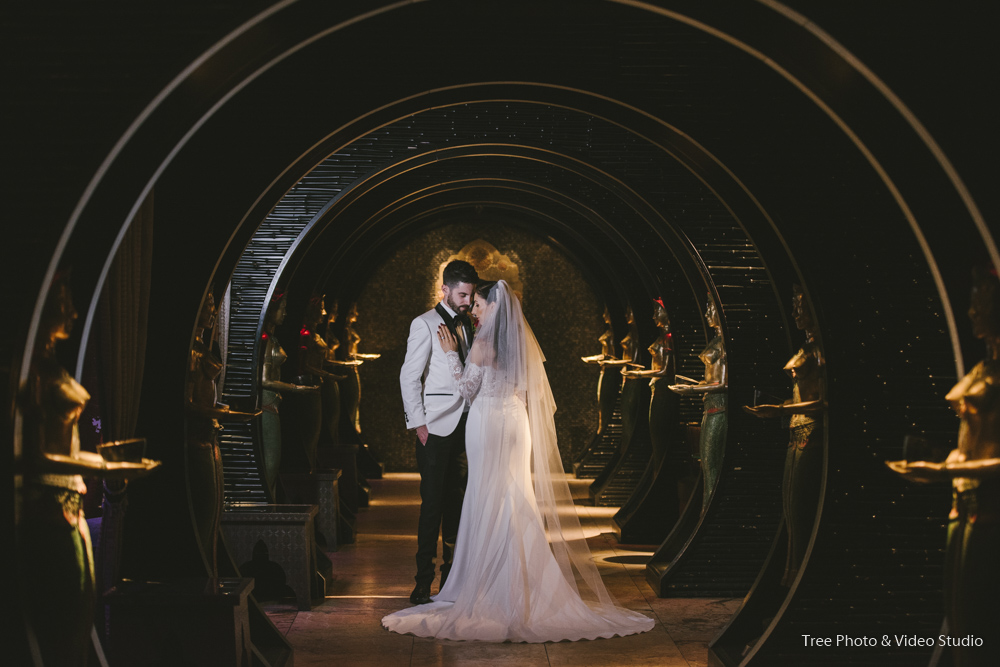 Spice market is an excellent private indoor space for exotic and unique wedding photography. Set on Beaney Lane in the Melbourne CBD, Spice Market provide you a chance to take the vibrant and subterranean style photos with its exotic Middle Eastern decors.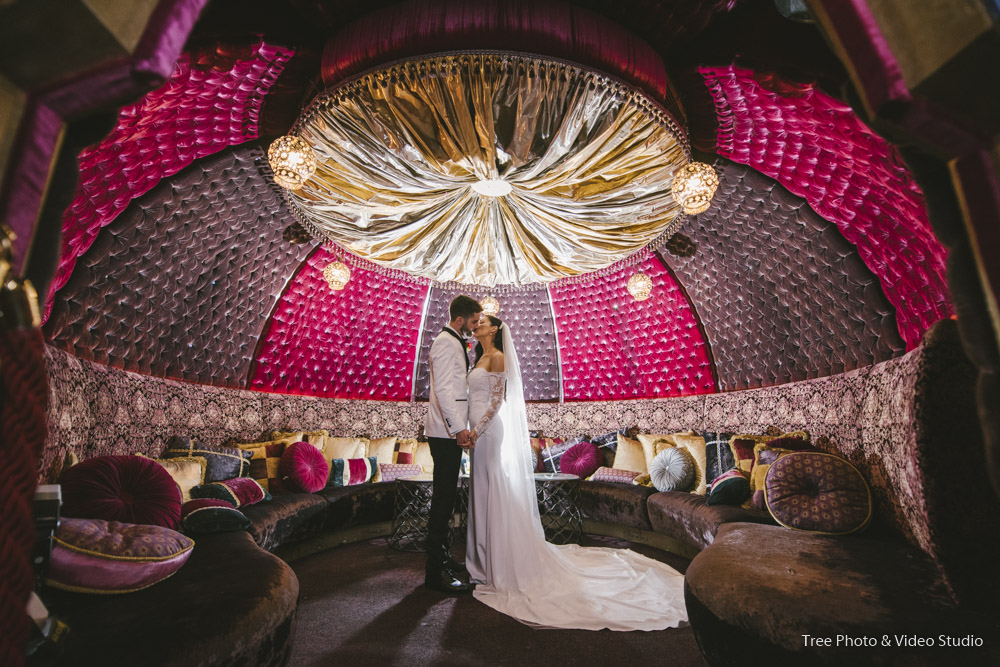 The cons?The Spice Market set in the Melbourne CBD, so it is probably only suit for the couple who get married around the Melbourne City or inner suburbs. It is probably cost too much time to travel when either your wedding ceremony place or wedding reception place in this area. Secondly, it is not a free place for these wedding photo opportunities. They charge around $350 for 1 hour photo shooting there.
Chanel Melbourne City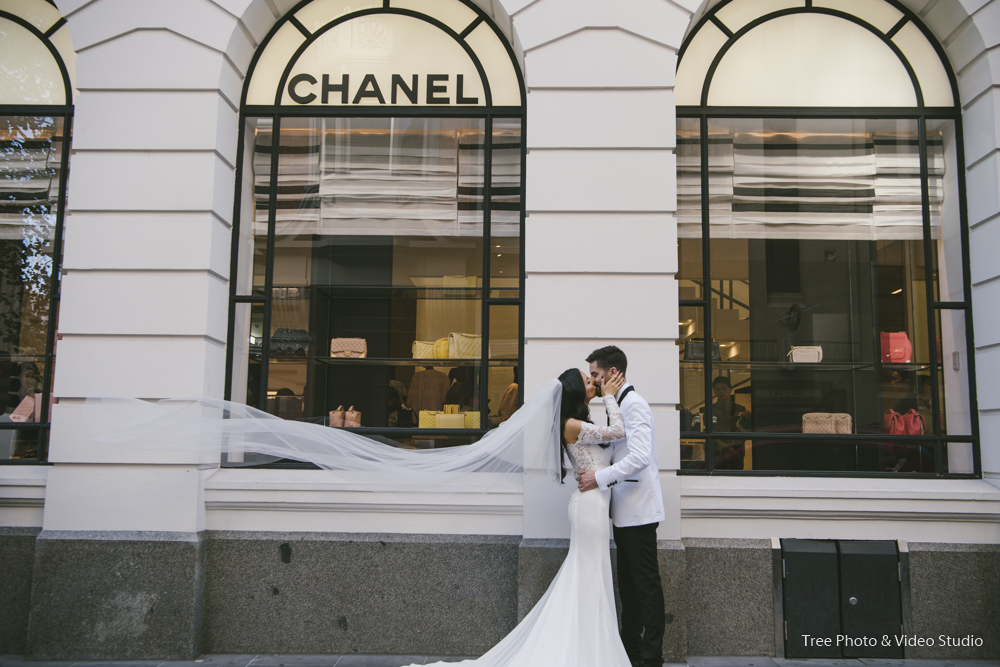 Chanel has always been girl's favorite, so as their wall outside their store on Flinders lane. The clean, contemporary architectural render wall provides a perfect backdrop for modern and dramatic wedding photos.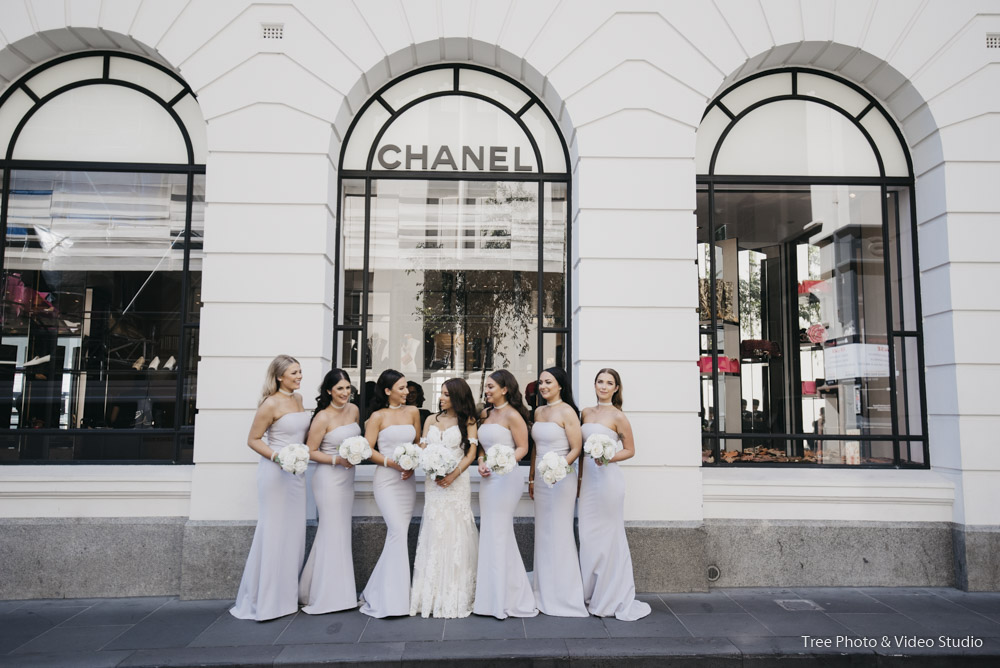 The fashion and elegant feeling delivered by Chanel mixed with the Melbourne street culture make here one of the favorite places for wedding photography locations. The shortcoming is the traffic and crowed passengers. Leave a bit flexible time here is essential.
Melbourne University
5 minutes away from the RMIT University, Melbourne University is the oldest university in fact in Victoria, and it is also one of the most popular destination for wedding photography. Unlike its neighbour, Melbourne university does charge for a permit for wedding photos to be taken (approx $500 for non-students and $250 for alumni). However I would say the money is well worth it: You could also organize your wedding car shot at the architectural featured underground car park in Melbourne University. To ensure your wedding day running smooth, having a wedding ceremony at Chapel of Holy Spirit in Norman College, one of the residential College close to Melbourne University, is recommended.