About Me
I'm a candid wedding videographer in Melbourne who loves using the authentic and natural wedding videography to unfold couples' wedding story.
I can promise you that I won't ask you to make a cheesy or awkward pose. On your wedding day, you would be yourself and you can sit back and relaxed with your bridal party. I'm relaxed and down to the earth person, and I hope you can feel that way as well on your big day so I can capture natural and candid moments.
Not only capturing your wedding film, I'm also here to help you to organize a smooth wedding as well as sharing more wedding inspirations.
I service in Melbourne. You can also find me in Yarra valley, Mornington Peninsula and Geelong or anywhere where there is romantic story.
---
Why I Love Candid Wedding Videography?
I watch lots of wedding film on YouTube and Vimeo, and I had great inspirations from the pioneer wedding filmmakers in Melbourne. In the end, I fell in love with the candid wedding video style, it always gives me a fabulous resonance.
The natural and candid wedding videography shooting style gives the bride and groom a relaxed atmosphere and meantime I have enough freedom to put in my creative ideas.
Unposed wedding videography provides the wedding couple with an exclusively unique experience on their wedding day, the candid wedding video truly reflects the romantic emotions and happy vibe on the nuptial in Melbourne.
---
Your Candid Wedding Video Journey
Candid Wedding Videography in Yarra Valley
Yarra valley is my number one favorite destination in Melbourne. The well-known Stones of the Yarra valley, Zonzo Estate, Balgownie Estate Vineyard Resort & Spa and etc., there are more than 20 famous wedding venue in the Yarra Valley region.
It is the perfect wedding location to create candid wedding videos, the natural vineyard marries the contemporary wedding décor. Nevertheless, some wedding venue such as the Stone of the Yarra valley and Immerse also have got beautiful chapels which provide backup plan in a wet weather. So bride can truly have a hassle-free wedding.
Candid Wedding Video in Mornington Peninsula
Lots of young Melbournian love spending their weekends at the beach. Then why not get married in Mornington Peninsular? The wedding ceremony options are versatile, it can be held on a beach, or in a beautifully manicured garden as well as inside one of the golf courses in Mornington.
In contrast to Melbourne CBD weddings, the weddings at Mornington are free from the crowded and busy urban life. The bridal party can be fully immersed in a natural and peaceful wedding atmosphere. Most wedding couple who got married in Mornington do tell me that how much they like the natural and candid wedding videography.
Another bonus with filming wedding in Mornington is that I can use a drone to capture shots such as the panoramic coastline in Mornington Peninsular.
Natural and Candid Wedding Cinematography in Dandenong Ranges
Have you ever dreamed that your wedding location is surrounded by natural flowers and greeneries? Or you have been thinking your wedding with beautiful backdrop of forests and trees.
Wedding venues in Dandenong mountain, like Tatra receptions, Poets lane and Marybrooke Manor, have full range of tropical plants and ferns. The lush greenery can provide excellent photo background, and you and your bridal party can enjoy the mountain view. The natural and candid wedding cinematography style is the soulmate for this perfect location.
I like to carry a 85 mm prime lens to capture the intimated and romantic emotional connections between the bride and groom. The long focal lens also allows me to get the shot I want without being too close to the couples. The comfortable distance enables the magic moment to happen and I will not interrupt them when bridal party have natural laughing and chatting. Also, the prime lens would create a creamy and soft background in the video footage.
Bonus tips to bride who get marry in Dandenong range:
If you are looking to take some extra location photos at offsite Dandenong wedding venue. The R.J. Hamer Arboretum offers great look out point as well as a panoramic view of the Dandenong ranges. Alfred Nicholas Memorial Garden is another great photo location that even offers lake view. Both of the locations are within 15 minutes driving time from the main receptions.
Candid and Natural Farm Wedding Video
I spend part of my childhood in countryside and until now I still love visiting small towns, like
Echuca, Mildura, Shepperton and Warrnambool, towns like those always bring inspiration to my wedding video.
The bride and groom who lives in the country might still keep the original lifestyle, but it only helps the wedding video to be better. I have to say I have been influenced by the fast pacing Melbourne metropolitan lifestyle. But every time when I get to shoot a farm wedding in the country, I would recall my childhood memory and get great resonance from it. The wedding vibe as well as the interactions absolutely fit perfectly with the natural and candid wedding video style.
I still remember one of the wedding that I travelled 3.5 hours. The ceremony and reception were held at the stunning Warrnambool Racing club. Bradley is a quiet cowboy and Jessica has double law degree and she loves reading. The couple is a perfect match. The wedding day ran smoothly and the wedding video highlight truly reflects their personal touch and wedding vibe.
Organic Wedding in a Candid Wedding Video Style
Last but not the least, an organic wedding would be great to be shot in a candid videography style. The eco-friendly wedding can be held in a private house, woolshed and greenhouse.
The wedding is simple and organic. Bride can buy bridal gown from Still white and get the décor and decoration from local florist market even get fresh flowers from their backyard. Because the wedding couple DIY the wedding, it enables the massive possibility for wedding inspirations.
One of the weddings I filmed is a perfect organic wedding sample, the couple organized a wedding in parent's holiday house with local florist supplier and they hire the food trucks to spoil their guests with variable food palette, the wood-fired pizza, handmade burger and delicious drinks.
I captured lots of candid video footages from the bridal party and guests. At the same time, I took lots of splendid landscape and fine details of wedding decoration, lots of wedding décor are handmade by bride and her bridesmaids. You can feel self-achievement when you see the great results by your hands. Every organic wedding is a handcraft design, it can't repeat again. The natural and candid wedding film really present the authentic and romantic of the wedding day.
---
Candid Wedding Videography Package
Essential wedding videography
$1,799
6 hours videography coverage
One videographer
4 minutes wedding video highlight reel
1-1.5 hours edited live footage
Pre wedding consultation in person or Zoom meeting
Extensive wedding videography
$2,749
10 hours videography coverage
One videographer
4-6 minutes wedding video highlight reel
1-1.5 hours edited live footage
Pre wedding consultation in person or video meeting
To find more option, click here.
---
Honest + Transparent
I'm 100% honest and transparent about my candid wedding videography price, I believe you and your partner have rights to know what you invest and what you will receive. I want the bride and groom to feel informed and supported by me throughout the wedding journey and give a personal service from the first meeting to the end when you receive the handcraft wooden USB.
I have drawn a simple infographic for the wedding videography workflow so the couple can know every steps of wedding video process.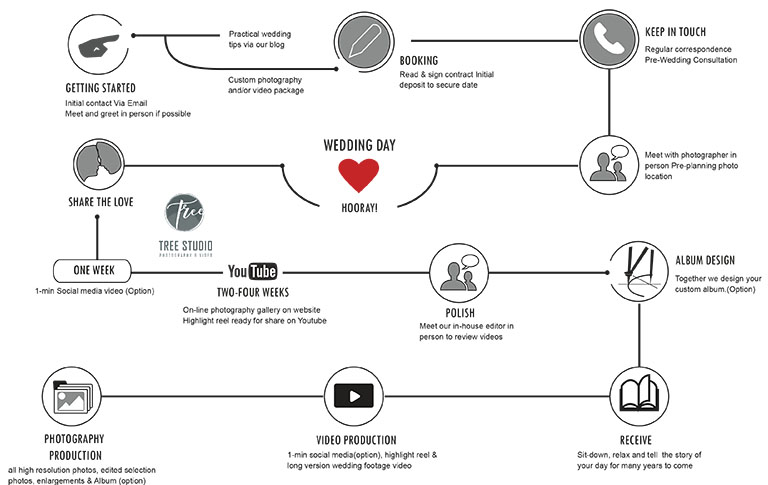 ---
Candid Wedding Video Editing
Filming the wedding is just a half way, if you want to learn more about how to select the best wedding music for wedding movie and want to be involved in create a fabulous wedding film, you could see the wedding videography edit guide here.